I have been during strength training all of my life. Ever since I could walk, my father always took me to places like "Tarzan land" and gyms on Sundays etc. I have been during gymnastics and martial arts the most of my life, which has given me some kind of basic form and strength, and was something I could apply to Tricking and Parkour.
If you search the internet today, you won't find a respected Parkour website or community who doesn't clearly encourage conditioning and strength training.
And that's a good thing! People, who are new to the discipline, have to learn how to build their bodies to become stronger, faster and more efficient in every aspect. Everybody agrees on that! The only thing is just HOW? What is the best way to get the strength of David Belle? Are there some kinds of quick exercise programs, which can give you super-strength in no time? Or is it something that you can only get from years and years of training and constant conditioning? There are a lot of different opinions towards this subject; some people think heavy weight training is the best solution while others supports the idea of just using their own bodyweight.
Lately, I have been riding this conditioning wave along with everybody else. I have of been paying a lot of attention to Will Wayland's articles on world wide jam's community, and apart from that, I have been reading tons of articles from other websites like t-nation and trickstutorials (mostly nutrition).
Regarding what I have learned, and what seems natural and obvious to me, I made up my own training regime consisting of a nice mix between; Bodyweight exercises (you name it), heavy weight exercises (max 5 reps of 3-5 sets), and endurance exercises (added lately; cat-crawl).
But during the last year, where I have been conditioning like crazy, - I still didn't feel like I had the same basic kind of speed and body control, like when I did martial arts. I couldn't figure out what the problem was and it irritated me like hell. Really! It was annoying to see Adam getting stronger and stronger without really doing anything.
Then suddenly in all my frustration, I stumbled across good old Bruce, and ISOMETRIC training or resistance training, and now at last all my prayers have been heard. I think I have found the key. !!
Isometrics will gain the most, if you mix it up with other kinds of exercises, so i think I will experiment a bit with this, and return with the good ones.. :)
Now I also know why Adam was getting so strong! The only thing Adam does to become stronger is simply by isometric training (without knowing it himself) He does a lot of static holds and levers etc. and its amazing how strong and powerful he has become just by doing that. No additional weights, only isometrics. Martial arts also incorporate a lot of this kind of training, and that's why I felt so strong back then. Therefore I KNOW this works, because I have felt it on my own body, and by watching Adam. (Why does gymnast become so strong? They do tons of isometrics and static holds..! )
Isometrics was responsible for;
- The lightening speed and superhuman strength of the old karate masters
- The infinite stamina and mountainous muscle of the legendary Indian Wrestlers such as the Great Gama (undefeated in over 5,000 battles!)
- The lean, wiry, phenomenal physique of Bruce Lee
- The Greek statue proportioned body of the worlds most perfect man Charles Atlas
- The colossal powerhouse that is Arnold Schwarzenegger
- The unbelievable definition of the worlds greatest gymnasts
- The tight toned physiques of the great dancers
- The astounding physical development of the old school strongmen – who NEVER lifted weights!
- The continual revolutionary performance of Russian Athletes during the Olympics
(Paul J. O'Brian)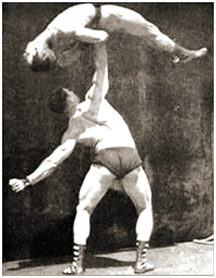 By adding isometrics to my training, I think I will gain so much more and get that old feeling of basic strength back which I have lost! YES..!!!
I cant really teach you about isometrics the same way experts can. So here's a link to the best website there is on the internet about this subject.
www.isometric-training.com
Good luck with this!!!
Thomas Videbaek